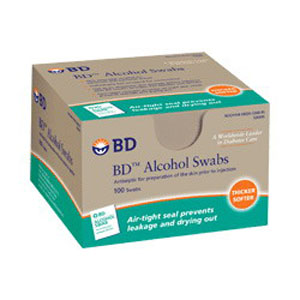 BD Alcohol Swabs, Non-Sterile
By: Becton Dickinson
In Stock
Thicker and softer than some other swabs, BD™ Alcohol Swabs ensure reliable site preparation for safe, hygienic insulin injections. BD™ Alcohol Swabs are also excellent for many other household uses.
Individually foil wrapped for convenience.
70% Isopropyl Alcohol for optimum anti-bacterial action.
Four-layer wrapper provides air-tight seal which prevents leakage and drying out.
Available Options:
Box of 100

Model: 58326895

Weight: 0.37 LB

Shipping Dimensions: 3.95 X 2.85 X 3.8 w
Have a question about this product?
Email or call us at 1-888-694-4520
Alcohol Swab, Foil Wrapped (100 count)