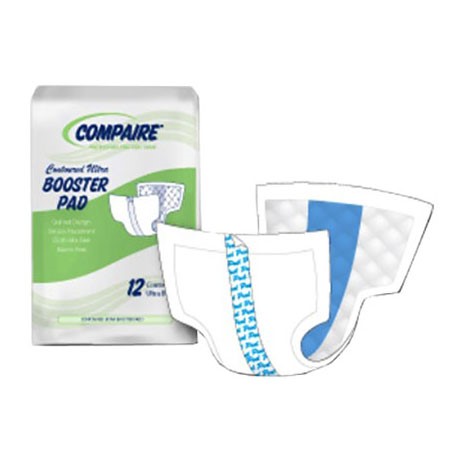 Absorbent Products Compaire™ Contoured Ultra Booster Pads, 13" x 24"
By: Absorbent Products Company Inc
In Stock
Light to Moderate Protection, Adhesive
Compaire™ Contoured Ultra Booster Pads 13" x 24" feature a self-adhesive strip and a quilted design that increases the capacity of any brief or undergarment for night time use or any time extended protection is needed. The super-absorbent core locks away wetness and reduces odor. Compaire booster pads are barrier free for breathability and feature a unique flow through design. Light to moderate protection level.
Quilted design.
Soft outer cover reduces skin irritation for a more comfortable feel.
Super-absorbent core pulls moisture away from skin quickly.
Available Options:
Package of 12

Model: FT19500

Weight: 1.32 LB

Shipping Dimensions: 6.89 X 5.71 X 5.38 w
Have a question about this product?
Email or call us at 1-888-694-4520
Compaire Contoured Ultra Booster Pads, 13" x 24"