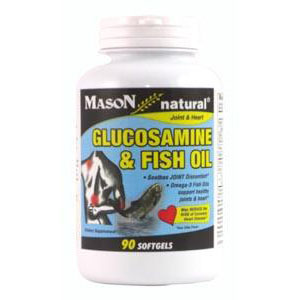 Mason Vitamins Glucosamine and Fish Oil Softgel 90 Count, Soothes Joint Discomfort
By: Mason Vitamins
In Stock
Mason Vitamins Glucosamine and Fish Oil Softgel 90 Count, Soothes Joint Discomfort

Glucosamine is manufactured by the body and is a natural building block of cartilage. Supplementing the body with glucosamine helps nourish and repair cartilage, which cushions bones and is essential to joint flexibility and comfort. Fish oil contains EPA and DHA Omega-3 essential fatty acids, vital compounds that support a healthy heart, cholesterol levels and joint comfort.
Soothes joint discomfort.
Omega-3 fish oils support healthy joints and heart.
May reduce the risk of coronary heart disease.
Dietary supplement.
Available Options:
90 Count (1 in Each)

Model: GQ141490

Weight: 0.46 LB

Shipping Dimensions: 2.65 X 2.65 X 4.75 w
Have a question about this product?
Email or call us at 1-888-694-4520
Glucosamine and Fish Oil Softgels, 90 Count