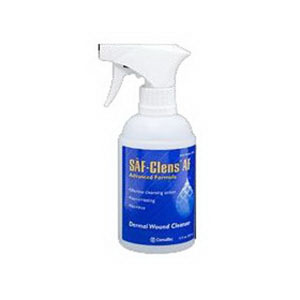 ConvaTec SAF-Clens® AF Dermal Wound Cleanser, 12 oz
By: Convatec
In Stock
No-Rinse

SAF® AF dermal wound cleanser is a surfactant-containing formula that washes away debris that saline may leave behind. Its no-rinse formula saves time and its nozzle adjusts from stream to spray for varying wound cleansing needs.
Especially effective at removing adherent debris without damaging delicate tissue.
Non-ionic surfactant.
Available Options:
Have a question about this product?
Email or call us at 1-888-694-4520
SAF-Clens AF Dermal Wound Cleanser 12 oz.