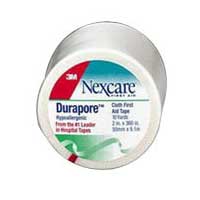 3M Durapore™ Silk-Like Cloth First Aid Surgical Tape, 1" x 10 yds
By: 3M
Product available with different options
Hypoallergenic Adhesive, Water Resistant, Latex-free

3M Nexcare™ Durapore™ Cloth Tape is a strong silk-like general purpose cloth tape with a Latex-free, hypoallergenic adhesive that offers high strength and adhesion. Provides strong support, yet lets skin function normally. Hypoallergenic adhesive, leaves little or no residue.
Adheres well to dry skin.
Available in individually wrapped rolls, carded and in dispensers.
Convenient bilateral tearing.
Comfortable and versatile.
Available Options:
Have a question about this product?
Email or call us at 1-888-694-4520
Durapore Silk-like Cloth First Aid Surgical Tape 1" x 10 yds.