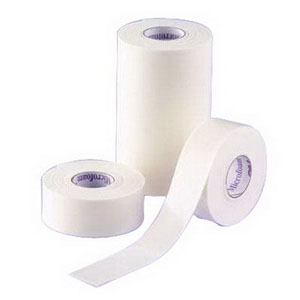 3M Microfoam™ Hypoallergenic Elastic Foam Surgical Tape, 4" x 5-1/2 yds (Stretched)
By: 3M
In Stock
Highly Conformable, Water Resistant, Latex Free 

3M Microfoam™ Surgical Tape is designed to stretch and conform while providing secure adhesion to joints or skin folds. Excellent for repeated applications on sensitive, fragile skin and elderly patients. This tape does not contain either rubber latex or dry natural rubber. It is water-resistant, hypoallergenic and highly conformable. It consists of closed cell foam and gives all-direction stretch.
Multi-direction stretch to accommodate swelling and promote comfort.
Gentle, secure adhesion to irregularly contoured sites.
Conformable to bandaged areas.
Highly conformable, elastic foam tape that stretches for compression applications.
Available Options:
4" X 5-1/2 Yds. (1 in Each)

Model: 8815284

Weight: 0.2 LB

Shipping Dimensions: 1.6 X 2.2 X 4 w
Have a question about this product?
Email or call us at 1-888-694-4520
Microfoam Hypoallergenic Elastic Foam Surgical Tape 4" x 5-1/2 yds.