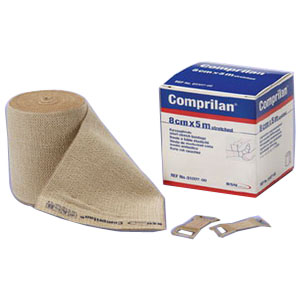 BSN Jobst Comprilan® Compression Bandage, 2-2/5" x 5-1/2 yds
By: Bsn Jobst
In Stock
BSN Jobst Comprilan® Compression Bandage 2-2/5" x 5-1/2yds, Reusable, Latex-free

Comprilan Stretch Compression Bandage 100% cotton, Latex-Free bandage. Provides compression and high resistance to stretch, increasing venous and lymphatic return. 70% elasticity, high working pressure, low resting pressure, air permeable, woven edges. Machine wash and dry.
Bandage made of 100% cotton.
Provides high working pressure and lower resting pressure.
Ideal in home healthcare situations.
Washable and reusable.
Available Options:
Have a question about this product?
Email or call us at 1-888-694-4520
Comprilan Compression Bandage 2.4" x 5.5 yds.