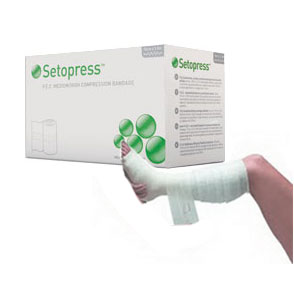 Molnlycke Setopress® High Compression Bandage, Washable
By: Molnlycke Health Care Us Llc
In Stock
Washable, Lightweight

Molnlycke Setopress High Compression Bandage provides the correct level of graduated compression for the effective treatment of venous leg ulcers. Its visual application guide clearly indicates correct positioning and pressure.
Thin enough to be worn with shoes, to encourage mobility.
Long enough for even the largest limbs.
Washable, for hygiene and economy.
2 different levels of compression.
Available Options:
10cm X 3.5xm, 4" X 138" (1 in Each)

Model: SC3505

Weight: 0.2 LB

Shipping Dimensions: 4.2 X 2.5 X 2.5 w
Have a question about this product?
Email or call us at 1-888-694-4520
Setopress 10cm x 3.5xm, 4" x 138"